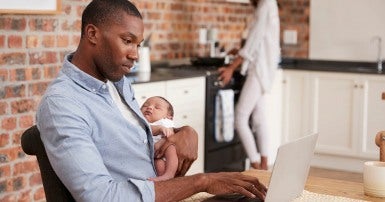 On Employment Insurance, Budget 2018 offered some promising steps in the right direction, but also some curious gaps.
The biggest announcement was that a new dedicated parental leave for second parents (fathers or same-sex partners) will be available beginning in June 2019. Much like the model offered by the Quebec Parental Insurance Program, the expanded leave will give five weeks of additional leave to parents who opt for the traditional 35‑week leave. This leave can only be taken by the second parent. For parents who choose to take the new extended 61‑week leave, introduced in last year's budget, an additional eight weeks of leave will be available.
Dedicated paternity leave is an important tool for increasing the caregiving role of fathers. Evidence from other countries suggests that fathers who take paternity leave are more likely to share the routine tasks of caregiving and domestic labour, in addition to giving them a closer bond with their children. This in turn makes it easier for mothers to return to paid work sooner following the birth of a child, and thereby helps to increase women's labour force participation and reduce the gender wage gap. Normalizing the participation of men in parental leave also reduces discrimination in the workplace against both men and women who take parental leave.
No solution for existing inequities
As such, CUPE is very happy to see the introduction of use-it-or-lose-it leave for fathers and second parents. However, the proposal announced in Budget 2018 replicates the existing inequities in access to the EI system. At present, only two-thirds of Canadian mothers take maternity leave, either because they don't have enough hours to qualify or because the benefit level is too low for them to make ends meet. It's particularly difficult for low income women to take parental leave, and less than half of them do. There is a real risk that second parent leave will likewise only benefit a few Canadian families unless these issues are addressed from the outset.
The Quebec Parental Insurance Program offers both a lower threshold for eligibility ($2000 of earnings in the last year) and a higher benefit replacement rate (70% of insurable earnings rather than 55%). The federal government should look at adopting a similar model when they implement the new second parent leave next year. CUPE has also called on the government to offer 12 weeks of dedicated second parent leave, which would match other OECD countries, and to make more support available to single parents.
Child Care: The missing link
The Budget also fails to address the other half of the parenting equation, which is access to high quality, affordable, publicly-delivered child care. Allowing parents to spend time with their young children is important, but it won't actually help to get women into the labour force unless there is an affordable, high quality child care spot available when they are ready to go back to work. It's disappointing that Budget 2018 didn't offer anything in this regard.
The Budget also made commitments around Working While on Claim and the gap for seasonal workers and offered more funding for claims processing and for the EI call centre. The money for service delivery is very welcome and will hopefully make a difference in the unacceptably long wait times currently faced by many applicants. It's disappointing, however, that the government chose to address the seasonal gap with funding for workforce development, as though the problem lies with the skills of the workers rather than in the fact that the work available in many regions is seasonal.
It's also disappointing to see that there is no funding in the Budget for fixing the appallingly broken appeals process. The failures of the Social Security Tribunal have been known for a long time, and the KPMG report submitted to the Minister in the fall of 2017 confirmed that there is much work to be done to fix the system. The government has said they are committed to coming up with the right solution, but there is a need to act urgently. There are also many small changes which could be made immediately which would make a significant difference. It's disappointing to see that no money has been put on the table to make those changes happen as quickly as possible.