Danielle Savoie | CUPE Communications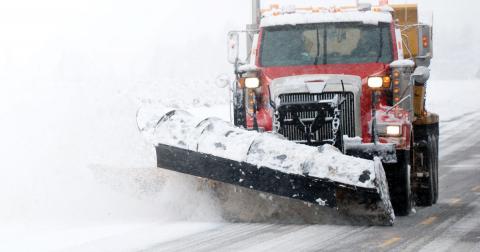 CUPE 1190, New Brunswick snowplow operators, have been hit hard this winter with heavy snowfalls, freezing rain, and strong blowing wind. They have also been hit with cuts to the New Brunswick Winter Maintenance Program.
"With a $9 million cut in the winter maint­enance budget, we knew that 26 plows and graders were going to be sitting this winter. That was on top of the 29 plows that they already pulled from service two seasons ago and 70 less operators this year, through retirements, people resigning and so forth", said Andy Hardy, president of CUPE 1190.
After trying to get through to the govern­ment about the impact the cuts would have on New Brunswickers, especially in the rural area, the local decided to give a voice to those affected by the cuts. In December, they launched a telephone hotline to collect public feedback on road conditions during winter.
"In a matter of weeks, more than 600 calls were received from citizens complaining about the road conditions in their area," said Hardy. "After that, the government could no longer say it was only the union rumbling about the impact of the cuts because we were losing jobs! Every time we have bad weather, and we had more than our fair share of snow this year, the hotline is busy with calls from disgruntled taxpayers."
The campaign Bad roads ahead will also help the local document another area of concern: the maintenance of provincial roads and highways. The goal is to put some pressure on the department to step up its plowing efforts. "If the roads don't get plowed, how do people get to work— especially in the rural areas where public transit is nonexistent?" asked Hardy. "It also had some impact on school bus service and emergency services. We warned the government that with fewer plows and operators on the roads, the level of service would not be the same." 
The local intends to continue its campaign during the summer months to draw attention to the potholes and bumps on the roads that need to be repaired.