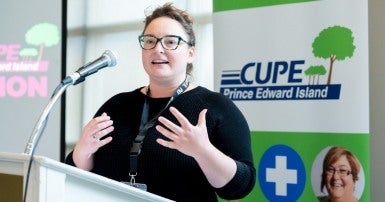 Ashley Clark was elected as CUPE PEI President in May 2023, and was elected to CUPE's National Executive Board as Regional Vice-President for Prince Edward Island in July 2023.
Ashley works as an International Student Academic Coach at the University of Prince Edward Island (UPEI), supporting international students who come to Prince Edward Island to take education programs. 
She has been an active member of her local since 2015.  She served first as executive shop steward, and then as president of CUPE 1870, representing UPEI support staff.  She has also served two terms on the National Post-Secondary Task Force.