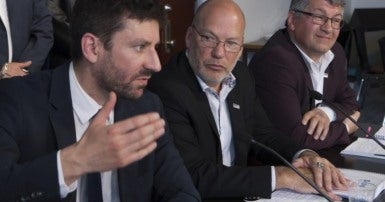 Upon learning of the Government's offers during negotiations with les avocats et notaires de l'État québécois  (LANEQ), CUPE saw that the President of the Treasury Board has distorted reality once again to avoid recognizing the legitimacy of the demands of their lawyers and notaries.
"Pierre Moreau again is attempting to skew and lie about the numbers. He needs to make an adequate and equitable offer to the government lawyers and notaries of Quebec. After a 19-week strike, the longest involving the Government of Quebec, this smacks of total disregard. This is the same minister who lied to the public by inflating the municipal pension plan deficit by some $1.4 billion," noted Marc Ranger, Director of CUPE-Quebec.
Through their economist Pierre-Guy Sylvestre, who conducted several studies on compensation during the last round of bargaining with government employees and in parliamentary committees, CUPE-Quebec noted a number of inconsistencies in Treasury Board comparisons between the remuneration of LANEQ members and that of Crown prosecutors, including:
The amounts spent by the government on the overall compensation to a prosecutor are 5% higher than those paid to a lawyer at the same level, both in 2015 and in 2018;
Contrary to the claims of the Treasury Board representatives, the pension plan of Crown prosecutors (RRPE) pays out more than that of Quebec government lawyers and notaries (RREGOP), since it is based on the best three years rather than the five best years;
Furthermore, employer contributions to the pension plans of Crown prosecutors will be 13.53% in 2018 whereas it will be 10.95% for Quebec government lawyers and notaries, a detail totally omitted by the Treasury Board representatives;
The transition from a regime of 12 days of cumulative sick leave to 10 sick days, paid annually, is in no way equivalent and must be compensated.
"We support the members of LANEQ in their strike. The government must recognize the specificity of its lawyers and notaries. How arrogant to announce the government's offer while inviting the president of LANEQ to a talk show! This Government must be held accountable," concluded Ranger.
With more than 110,000 members in Quebec, CUPE represents some 10,100 members in the education sector as well as 19,600 members in the health and social services sector. CUPE is also present in the following sectors: communications, universities, energy, municipalities, government corporations and public agencies, air and urban transport, and the mixed sector.