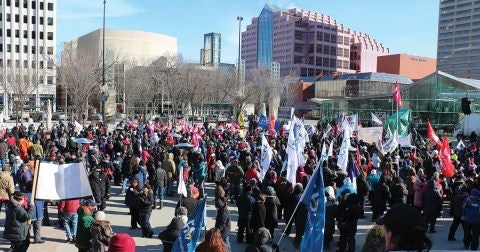 Lou Arab | CUPE Communications
Legislation that put at risk the retirement security of hundreds of thousands of Albertans has been sidelined by the provincial government – for now.
After months of stubborn insistence that drastic cuts to public sector pension plans were necessary, Alberta's finance minister announced Bills 9 and 10 would be sent to a committee of MLAs for further study and public hearings rather than be passed during the spring sitting of the Legislature.
CUPE Alberta President Marle Roberts credits front line public employees for calling, emailing and visiting offices of MLAs in an effort to slow down the legislation.
"From the beginning, we told the government changes to pension plans should be negotiated, not legislated," said Roberts. "CUPE members took up that call and made their voices heard."
The bills, if passed, would have undermined the retirement security of hundreds of thousands of Albertans by allowing the conversion of modest, stable defined-benefit pensions to less-stable ones.
The bills would have also allowed employers to target benefits already earned, reduce early retirement, and remove guaranteed indexing of
pension benefits.
In addition to introducing Bill 9, which gutted the pension plans of CUPE members who are front line public sector workers, the government surprised observers by introducing Bill 10, which allowed private sector employers to unilaterally convert defined-benefit plans to 'target' plans – reducing security for pensioners.
Since pension legislation was added to the government's agenda in September, thousands of Albertans have educated themselves on the issues, visited their MLAs, written letters to Premiers Redford and Hancock, signed petitions, and protested at the Legislature and across the province.
Alberta workers and retirees found allies like Calgary Mayor Naheed Nenshi and the Alberta Association of Municipal Districts and Counties, who opposed the changes. 
Roberts said she was pleased the Alberta government announced public hearings into the pension changes. 
"Negotiation would be better," said Roberts. "But hopefully this is the start of a more respectful process, one that builds retirement security instead of tearing it down."
And if the government is just delaying the cuts? Well, CUPE members have memorized the phone numbers and email addresses of their local MLAs.