Wes Payne and Troy Winters | CUPE Communications and Health & Safety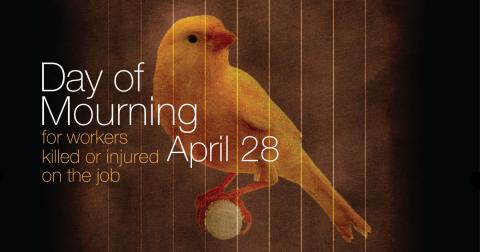 30 years after CUPE's national health and safety committee first proposed the Day of Mourning, workers are seeing some significant setbacks.
The most blatant assault is happening in the federal sector. As reported in the last issue of Canary, omnibus budget Bill C-4  recently passed by the Harper government – reduced workers protections and changed the definition of danger to make refusing dangerous work confusing for workers.
CUPE has heard reports of employers telling workers that they no longer have the right to refuse as a result of the new legislation.  This is both factually wrong and dangerous. All workers, regardless of their jurisdiction, still have the right to refuse dangerous work.
Among other changes, the words "imminent or serious threat" were added to the definition of danger, which implies that workers are not entitled to protection from hazards that could cause them illness in the future.
It is still unclear whether the new definition of danger will lead to a modified interpretation of the right to refuse by health and safety inspectors or the Minister of Labour. The government maintains that this new definition does not reduce worker's rights, but some employers are obviously interpreting the changes to the legislation differently.
Regardless of the finer points of legal interpretation, the law still allows workers to refuse dangerous work. Workers ought to remember one simple standard to assess a potentially dangerous situation: if you don't feel safe performing a task, you should not perform it until your concerns have been addressed.
"We're just appalled that the Harper government finds it acceptable to create confusion around something as basic as workplace health and safety," said CUPE National President Paul Moist. "There is absolutely no good reason to impose these changes. And for us to receive these reports as we mark the 30th anniversary of the Day of Mourning just adds insult to injury."
It was CUPE's National Health and Safety Committee that, in 1984, first proposed the Day of Mourning. Since then, on April 28, CUPE members and workers around the world pause to remember those that have been injured, made ill, or killed because they went to work.
Every year, CUPE locals and divisions organize memorial events across the country to honour those workers and to strengthen their resolve to fight for the living.
In 2012, the most recent figures available, there were 977 reported workplace related deaths in Canada.  This number only represents those accepted by various workers compensation boards across the nation and generally do not reflect many illnesses contracted as a result of workplace exposure to hazardous materials. The real number is certainly much higher.