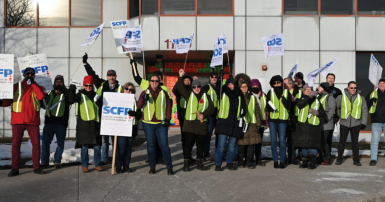 Office employees with the Réseau de transport de Longueuil (RTL) demonstrated yesterday afternoon to express their discontent with the sluggishness of negotiations to renew their collective agreement. The demonstration was held during a board meeting at the employer's head office.
CUPE, which represents 110 workers at RTL, warned that the next step will be a strike. Workers voted 84% in support of a strike mandate at a recent union meeting.
"We began our negotiations in December 2021. After more than thirty meetings, the employer has still not shown any openness to our demands. Members are willing to go to whatever necessary lengths are needed to get respect," says Johane Roy, President CUPE 3332 which represents RTL workers.
Key issues of the dispute concern the pension plan, job classifications, work from home language, vacations, and wages.
"In October 2022, a conciliator was appointed at the request of both parties to resolve the impasse. The meetings went well, but there has been no movement since last February," says CUPE representative Jean-Guy Simard.
CUPE holds that their tabled proposals are a matter of equity. RTL's wage offers are between 4-6% less than what the company is paying its managerial employees.