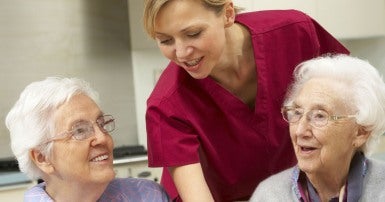 In an unprecedented move that begins to address staffing issues in health care, including long-term care, hospitals and home support, the Nova Scotia government announced today that continuing care assistants (CCAs) will receive a wage adjustment, effective Thursday, February 10, 2022.
"The adjustment announced today by Premier Houston is a good start and CCAs are one step closer to receiving decent wages," says CUPE Nova Scotia President Nan McFadgen, "but it doesn't address all the issues and job classifications."
"Bargaining remains a priority for us, however this brings CCAs who previously earned between $18.93 and $20.19 per hour to between $23.27 and $24.83 per hour," says McFadgen. "We're still going forward in bargaining, but this brings us closer to where we should be, bringing up the standard of living for people who work in care sectors."
Louise Riley, chairperson of CUPE's Long Term Care and Community Services Coordinating Committee, says, "We've always recognized that it takes a team to provide quality care and that includes many workers, in other job classifications."
CUPE Nova Scotia is the second largest union in the province with more than 19,000 members.