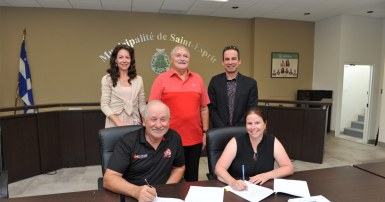 Today, the dozen inside and outside workers for the Municipality of Saint-Esprit in the Lanaudière region signed a new collective agreement. The members unanimously ratified the tentative agreement on August 11.
The previous agreement expired on December 31, 2021. The new five-year contract calls for wage hikes of 5% for 2022 and wage catch-up over two years for more than half of the members.
For the following four years, the contract contains an indexing clause based on the Consumer Price Index with a minimum of 3% per year.
Other gains include job security, the establishment of an employment floor, improved vacation allotments and payment of overtime, a higher benefit percentage for temporary or part-time employees, increased percentage of pension plan benefits and the possibility of introducing the FTQ payroll deduction pension plan.
The parties also agreed on the implementation of an on-call premium for outside workers and a teleworking policy for certain jobs, while remaining mindful of the Municipality's commitment to proceed jointly with the union in a pay equity exercise if it were to become a requirement for the Municipality.
"It only took four bargaining meetings to work out an agreement between the parties, and everything went well. It was a nice way of showing recognition to the employees. Municipalities must be more attractive as employers in these times of labour shortages," said CUPE union representative Maxime Valade.