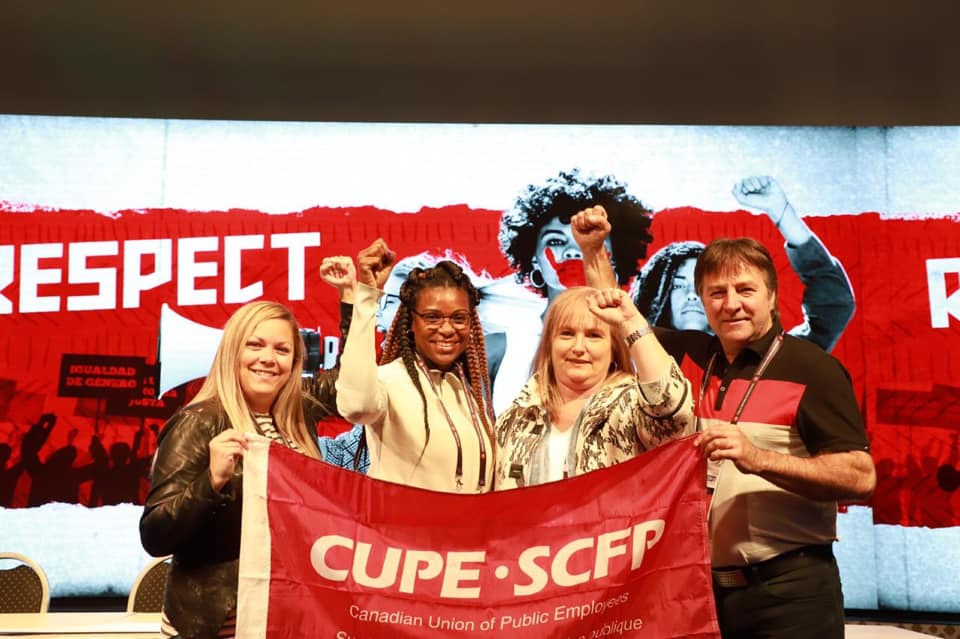 Fighting privatization, defending labour rights and demanding fair taxation were high on the agenda when public sector workers from across the Americas and the Caribbean gathered in late June in Argentina at a Public Services International (PSI) conference.
A delegation of CUPE leaders, members and staff took part in the regional PSI conference, which drew more than 400 delegates. CUPE is a member of PSI, which is a global trade union federation representing more than 20 million public sector workers in 163 countries around the world.
The theme of this year's InterAmerican Regional Conference, or IAMRECON, was "Defending the state from corporate power."
Delegates discussed the urgent need for solidarity in the region. Workers from equity-seeking groups in Brazil are facing a right-wing, racist government. Union activists in countries including Colombia and Guatemala are confronting ongoing violence. And migrants continue to leave Central America and Venezuela because of deteriorating economic and social conditions.
Conference participants strategized about common struggles facing workers including the threat of climate change, rising corporate power, the growing reach of international trade agreements and digitalization in the public sector.
Another key theme was the need for tax justice, including its role in fairly funding public services for all. Many developing countries are locked into high levels of debt that come with harsh conditions, including forced privatization. This increases inequality and undermines progress on public.
Members of CUPE's delegation also participated in meetings about anti-racist action; equity for women, LGBTQ2+ and young workers; and issues in the health, social services and municipal sectors. 
CUPE National Secretary-Treasurer Charles Fleury was on a plenary panel about keeping services public and the human rights impacts of privatization. He highlighted examples of CUPE mobilizing to bring services back in house, including water services in White Rock and a pilot in-house solid waste project in Winnipeg.
Fleury shared the stage with Lorretta Johnson, secretary-treasurer of the American Federation of Teachers, and Cristián Zuluaga of the PSI Young Workers Committee.  Philip Alston, the United Nations' special rapporteur on extreme poverty and human rights, joined by video.
The week ended on an inspiring note. LGBTQ2+ delegates mobilized to raise their profile at the conference, and to celebrate the 50th anniversary of the Stonewall Riots. The Stonewall Riots were an uprising sparked by a police raid on the Stonewall Inn, a gay bar in New York City. The demonstrations on June 28, 1969 marked a turning point for the LGBTQ2+ rights movement.
Delegates debated and passed an action plan which is being finalized and will be published in the coming weeks.
CUPE was represented at the IAMRECON by Charles Fleury, CUPE National Secretary-Treasurer; Sherry Hillier, CUPE Newfoundland and Labrador President; Zulema Young, CUPE 79 member and chair of the CUPE Ontario International Solidarity Committee; Marie Hélène Nadeau, CUPE 4041 President; Tania Jarzebiak, Executive Assistant to the National President; Michael Butler, Executive Assistant to the National Secretary-Treasurer; and Kelti Cameron, CUPE International Solidarity Officer.
Photo caption: (L-R) Marie Hélène Nadeau, Zulema Young, Sherry Hillier, Charles Fleury.