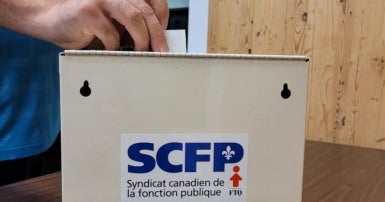 The union representing white- and blue-collar workers in the Charlevoix-Est RCM have announced an agreement to renew their new collective agreement.
At a general meeting last night, the members ratified the agreement reached last June 21 by representatives of the employer's and the union's bargaining committees.
The six-year agreement, which runs from July 19, 2022 to July 18, 2028, calls for a wage hike of 21%, a 1% increase in contributions to the FTQ wage-funded pension plan (RRFS-FTQ) and more vacation days.
Moreover, the parties agreed on the establishment of a four-day schedule for certain types of jobs and a teleworking plan. Telemedicine consultations will be paid for by the employer, and employees will be receiving retroactive payments for wages and their contributions to the RRFS-FTQ.
"Negotiations took place in an atmosphere of mutual respect. We're satisfied with this agreement, which improves working conditions and enables our workers to continue offering quality services to the people in the RCM.," said Tobie Jean, president of CUPE 4620.
The Charlevoix-Est RCM is located in the Capitale-Nationale administrative region. Its administrative centre is the Town of Clermont, and the region consists of nine municipalities: two towns, four municipalities, a parish and two unorganized territories.
The 31 employees in the RCM occupy manual, technical and office jobs.