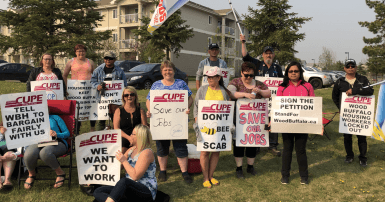 June 12th, Wood Buffalo Housing (WBH) closed its public meeting and relocated behind closed and locked doors in a transparent attempt to avoid coming face to face with its employees.
The corporation locked out employees on May 10th as part of an attempt to replace long time employees with fly-by-night contractors.
"The meeting was scheduled for a public location and the board moved it without notice," said CUPE 1505 President Judy Collier.  "Their 'public' meeting ended up at the provincial building behind locked doors."
Union representatives learned of the move and set up a picket line in front of the building hoping to have a few words with board members as they crossed the line.
"Most board members, including Chair Maggie Farrington, crossed the picket line without agreeing to talk to their employees," said Collier.
Collier said one board member did stop to talk and indicated that he thought management was trying to meet with the union's bargaining team.
"He looked surprised when I informed him that they were not trying to meet with us," Collier said.
Collier said employees wanted to let board members know fourteen (14) management positions cost WBH a similar amount to thirty-nine (39) union positions they are trying to replace with fly-by-night contractors.  CUPE asked WBH management to confirm these numbers on June 6 and has not yet received a response.
"Many residents have reached out to us with stories and pictures of unmanaged properties that are falling into disrepair, including garbage cans overflowing, unsightly yards that haven't been mowed in weeks," said Collier. "One resident even got stuck in a broken elevator."
Collier said residents are complaining that it is nearly impossible to get in touch with WBH regarding their concerns.
"Our members care about the residents," she said. "They just want to go back to work and serve the residents and their community."