The wage gap for women is shrinking, but at a slow pace.
The average hourly wage for Canadian women was $21.85 last year, 86 per cent of the average hourly wage paid to men. This gap is improved from the 82 per cent ratio 15 years ago, but at this rate of progress it will take another 40 to 50 years to close the gap.
The wage gap is considerably larger if considered in terms of annual income. Since women are more likely to work part-time and fewer hours than men, their annual average earnings are only 68 per cent of men's earnings. For those considered to be working full-time, full-year, the annual earnings ratio is 76 per cent.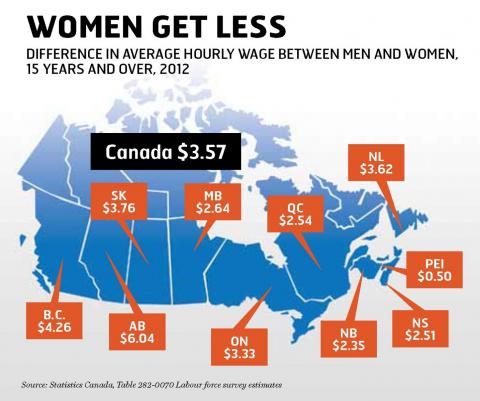 As our chart indicates, the gap is smallest in the Maritimes and Quebec, with P.E.I. leading the way. In Ontario women are paid an average of 87 per cent of the hourly wage paid to men, slightly better than the national average, but not much improved from the 82 per cent ratio of 15 years ago.
Women in B.C. have fared the worst. Not only has their pay gap narrowed at the slowest pace—only three percentage points since 1997, with no improvement over the past decade—but their wages have also increased at the slowest rate of all provinces.
The wage gap is smaller for women in unions or covered by a collective agreement. Women in unions were paid an average hourly wage of $26.32 in 2012, 95 per cent of the hourly wage of men in unions. In contrast, non-unionized women were paid an average wage of $19.67, just 81 per cent of non-unionized men, and 25 per cent less than women with union coverage. Non-unionized women have also seen far less progress closing the gap in recent years.
For younger unionized workers, the gap in hourly wages has almost disappeared, but older unionized women are still paid an average of five to 10 per cent less than their male counterparts.
Inequities for unionized women clearly remain, but by making the wage gap a priority we've had major positive results. Still, as illustrated through the average annual income figures above, women are more likely to work part-time and shorter hours than men, and many more women— particularly racialized women—are working in temporary, contract, or casual forms of precarious work.
Unions have played a vital role in reducing the inequalities women face, but there is still room for improvement. Pay equity language is an effective way to secure gains and help reduce the gap. The more progress unionized women make, the better the situation for all working women.