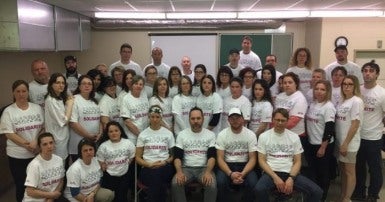 At a special meeting of the membership on Monday night, white-collar workers with the City of Sept-Îles voted 100 per cent in favour of sending a clear message to their employer by giving their bargaining committee a mandate to resort to pressure tactics up to and including strike action, when the timing is right.
The collective agreement expired on September 30, 2017, and in spite of the mediation process imposed by Bill 24, the parties could not come to an agreement. Two major issues are at the heart of the dispute – reductions in the sick leave plan and annual salary increases.
"Although we have made some headway with respect to management's demand regarding sick leave, the employer is not satisfied and is asking for more!" said Mathieu Gingras, president of the Syndicat des cols blancs de la Ville de Sept-Îles.
"Moreover, the salary increases offered to the white-collar workers do not even match those granted to municipal elected officials in 2017 and 2018," added Charlaine Sirois, the CUPE union representative on the North Shore.
"The workers cannot understand where the City of Sept-Îles is coming from. They realize their working conditions are good and simply want to hang on to what they have, while maintaining their purchasing power, which is more than reasonable," said Mathieu Gingras.
The white-collar workers consist of close to 60 permanent employees and around the same number of temporary employees.