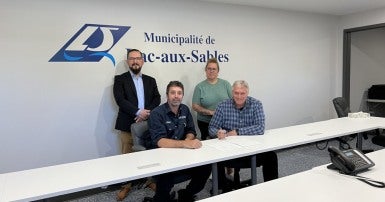 Yesterday, the Municipality of Lac-aux-Sables, in the administrative region of Mauricie and the union representing the 14 white- and blue-collar employees signed a new collective agreement.
The contract, which runs from January 1, 2023 to December 31, 2027, includes a wage hike of 7% for 2023. For subsequent years, compensation shall be adjusted according to the Consumer Price Index (CPI). For 2024, 2025, 2026 and 2027, employees will be receiving between 2% and 3% each year.
Working hours, particularly for snow removal, were improved, as were the vacation system and pension plan. Members will be getting a fourth week of vacation after eight years' service and a fifth after 15 years. As for the pension plan, provisions enabling a phased retirement were included in the contract.
"We're satisfied with the outcome of this agreement, particularly on the issue of wages. The negotiated increases compare favourably to what counterparts in neighboring municipalities are being paid and will enable members to retain their purchasing power during these difficult economic times," said union representative Hans Olivier Poirier-Grenier.