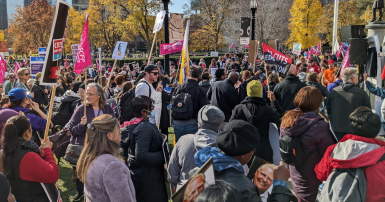 Today, 55,000 Ontario frontline education workers walked out of schools in a political protest. The entire Canadian Union of Public Employees membership, 715,000 strong across the country, is with them.
Ontario works because of CUPE members. We keep hospitals running. We maintain roads and highways. We power the energy sector. And our 55,000 education workers make sure that students in Ontario learn, thrive, and grow.
Custodians, maintenance workers, office staff, educational assistants, early childhood educators, library staff and others – the workers who keep our schools running – took on the most powerful bully in the province. The government threatened them. They tried to break their spirits with lowball offers that would push workers further into poverty and fail to meet the needs of students. Then they passed backwards legislation completely trampling on our Charter rights.

Still, education workers remained steadfast in their fight for what is right and what is just. And, for that and so much more, education workers need to know they're not alone.
CUPE workers in every sector and from every province are with Ontario education workers. We're united because this is a fight for all workers' rights.
We know our worth.
Worker power reshaped the country. Unions set the standard for working conditions, raised the floor of wages, and won the right to bargain and strike. We did it in the face of violence. We did it while members were jailed. We know where we come from – and we are prepared to do it all again.
We have faced challenges before. We've been undervalued. We've been told we're asking for too much. And now we all face the threat of having our Charter rights stripped away when a government finds it inconvenient to negotiate fairly.
This is a historic moment for the labour movement. It's a moment that will determine what kind of union we are for years to come. We are so proud that our union, 715,000 workers strong, is rising to the challenge.
The Ford government has forgotten what worker power looks like. CUPE members are going to remind them.
Mark Hancock
National President
Candace Rennick
National Secretary-Treasurer
Laura Walton
President, Ontario School Boards Council of Unions
Fred Hahn
President, CUPE Ontario
Yolanda McClean
Secretary Treasurer, CUPE Ontario