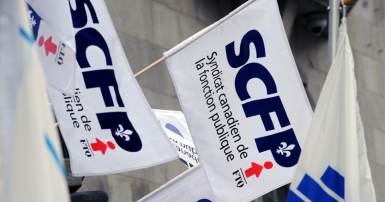 A mere month after waging a 48-hour strike, workers with the City of Westmount, who are members of CUPE 301, will be going out on a three-day strike to start at 7:00 a.m.  on Tuesday, March 14. Negotiations have reached an impasse over work schedules and wages.
"It's really sad that, in one of the richest cities in the country, we have to strike to get fair wages. Historic inflation and interest rates have put our members on shakier ground, and the city must do its part to prevent them from sliding further into poverty," says Luc Bisson, president of CUPE 301.
Last November, members voted in favour of a strike mandate that includes pressure tactics up to and including a strike.

The union and employer entered conciliation. CUPE notes that there continues to be a lack of meaningful progress.
"We hope that this strike will get the attention of Westmount's elected officials so that serious negotiations can begin. The citizens of Westmount must realize that if workers are not paid a suitable wage, services will take a hit," says Bisson.
The last collective agreement expired on December 31, 2019.