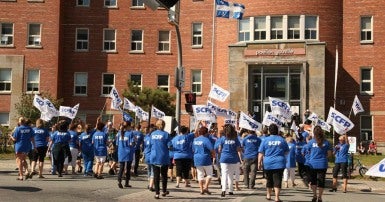 This week, health network employees in the Abitibi-Témiscamingue region and members of the provincial council on social affairs (
CPAS
) of the Canadian Union of Public Employees (
CUPE
), held a series of events to publicize their dissatisfaction with the slow pace of negotiations for the renewal of the collective agreement in the public sector. The agreement expired on March 31. 


"We want to show the Government that we not satisfied with their offers. We want real negotiations. There have been 31 meetings to date, with no significant progress," said Paul-André Clermont, vice-president of the provincial council on social affairs for Abitibi-Témiscamingue Nord-du-Québec. 


On September 14 and 15, unionized workers demonstrated in Ville-Marie and Témiscamingue, respectively. Today, a large group demonstrated in Rouyn-Noranda. On Thursday and Friday, they will be in Amos and Val-d'Or, respectively. 

In solidarity with those in need, union members will donate one dollar per CUPE member to Centraide in the regions where the demonstrations are being held. 

Other unions also have been invited to these demonstrations. United in a Common Front for this negotiation, some 800 trade unions in the public and parapublic sectors are seeking a strike mandate from 400,000 employees in the province of Quebec. 

The Interunion Common Front is demanding salary parity for employees in the public sector compared to other workers in Quebec, via a 13.5 per cent increase over three years. The Government, on the other hand, is proposing a two-year salary freeze and increases of one percent for each of three years