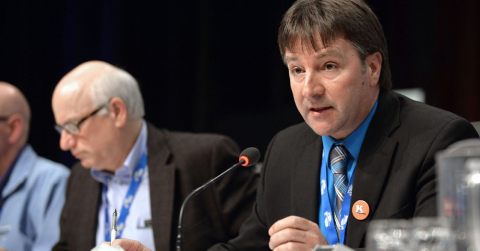 Charles Fleury | National Secretary-Treasurer
CUPE is still growing and so is our operating budget. With our $178 million budget for 2014, we will be meeting all of our financial obligations. But with an increase in per capita revenue of only 0.8 per cent or $1.4 million this year, making the 2014 budget was a real challenge.
There is an economic reality that we could not ignore. For the first time in many years, we ended 2013 with an operating deficit. And the factors contributing to the slower rate of revenue growth remain.
First, as collective agreements expired following the 2008 financial crash, negotiations have taken place in a climate of austerity. And, we are seeing lots of zeros or very small wage increases.
Secondly, even if our membership continues to grow, almost all of that growth is among part-time, casual and temporary workers. 
Finally, we are seeing a turnover in our membership. A wave of retirements means new members coming into the union are paid at the low end of the wage scale.
In that financial context, we had to make important choices for the future of our union
Indeed, some of the factors outlined above are good for our union. For instance, we should be organizing part-time and casual workers. This is why we budget resources to help strengthen and expand our membership.
CUPE is presently training our regional reps to be able to provide pension resources to locals all across Canada. This will pay off at the bargaining tables.
Nationally there is also a political battle brewing that we must win: the 2015 federal election. Through the Fairness project, and having conversations with our members we will get rid of this anti-union government and its austerity agenda.