Paul Moist | CUPE National President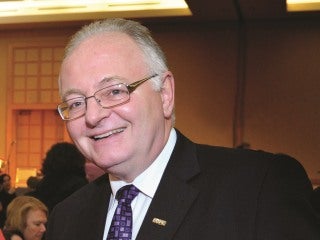 For decades, Liberal and Conservative governments have been telling Canadians we must settle for less. In 2015, we have the opportunity to reject this cynical message and vote for the real change we need. As CUPE members we must seize this opportunity and get involved in the next federal election.
The NDP shares our commitment to the valued quality public services CUPE members deliver every day.
Like CUPE, the NDP believes in protecting good pensions and expanding the CPP so all workers can retire with dignity.
It's the NDP we can depend on to strengthen our public health care system so it's there when Canadians need it most.
An NDP government will deliver quality, affordable child care for all families.
And the NDP will build a sustainable economy that creates decent paying jobs for everyone – an economy that works for you.
These are the values we know can build a better Canada.
To win the NDP needs our help.
We need to get involved. We need to talk with our friends and neighbours. We need to get out and vote.
But we can't vote out of fear. Replacing one unfriendly government with another won't get us any closer to the change we want. To do this, we must vote for the things we believe in and a government we can trust to deliver.
Building on the breakthrough in the last election that propelled the NDP into official opposition, New Democrats have shown Canadians they are ready to lead.
In the upcoming campaign, Tom Mulcair has the most potential to grow even more support. He has the principles, ideas and experience Canadians want in a Prime Minister.
The NDP has never been stronger. We are in a position to win. We are one election away.
Let's work together to elect a federal government we can trust to fight for everyday Canadians. You can vote for the change you want, and actually get it with Tom Mulcair's NDP.