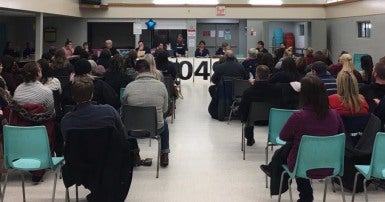 A contract offer that fails to address the persistent issues that hinder the delivery of high-quality child welfare services in the north has been decisively turned down by employees of the Children's Aid Society (CAS) of the District of Nipissing and Parry Sound.
A vote supervised by the Ministry of Labour was forced by Nipissing and Parry Sound CAS in an effort to circumvent the collective bargaining process. But of 120 workers who cast a ballot, 96 percent rejected the offer, once again putting the burden on the society to resume negotiations to reach a fair deal that protects services.
The Canadian Union of Public Employees (CUPE) consistently uses collective bargaining as one of the ways to address issues that affect quality of services provided by its members.
In this round of negotiations, overwhelming caseloads at Nipissing and Parry Sound CAS have emerged as a major issue that could cause vulnerable children to "fall through the cracks."
Today's vote signals clearly that an offer that fails to address excessive workload is unacceptable to the society's workers, since it leaves both children and workers at risk.
Nipissing and Parry Sound CAS doesn't fill staff vacancies or provide cover for workers on leave, adding to extreme caseload pressures on those remaining.
"Yet the society's executive director herself said yesterday that you can't talk about workload in isolation from sick leave, that the two go together," said CUPE 2049 president Debbie Hill.
Crushing workloads have a direct and damaging effect on the quality of services that workers provide, explained Hill, pointing out that they leave workers without the time and resources to build relationships with the families and children they serve. Too much work for too few people can also lead to employee burn-out and make employee recruitment and retention more difficult.
Hill went on to note that caseloads "have been recognized by others bodies as a danger to vulnerable children and youth," including other children's aid societies; juries from past coroners' inquests into child deaths in Ontario; the Ontario Association for Children's Aid Societies; and the Auditor General in a 2015 report into child protection services."
Before child welfare and support workers of Nipissing and Parry Sound CAS are in a legal lockout or strike position on December 23, CUPE is calling on the directors of Nipissing and Parry Sound CAS to acknowledge workload as an issue that affects services and to introduce measures to protect them.
Before that deadline, CUPE representatives are hoping to reach a deal that protects both vulnerable children and youth in the north, as well as the health and safety of workers.