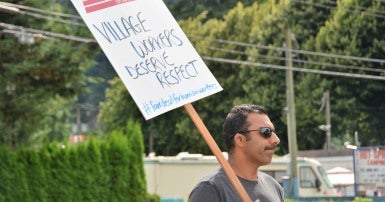 CUPE Local 458 and the Village of Harrison Springs resumed negotiations on July 11, however after a brief bargaining session no agreement was reached.
"We are very disappointed with the lack of progress that was made at today's bargaining meeting. The union came prepared to resolve this labour dispute because we know that there is a lot at stake for the community and our members," says CUPE 458 Acting President Darlene Worthylake. "We presented the Village with a new offer today, and addressed their main concern by removing our proposal around the compressed work week. Unfortunately, instead of taking time to consider our offer today the Village informed us that they would need the rest of the week to review it."
Worthylake says that as a show of good faith the union has agreed to stop all picketing affecting the Arts Festival until the two parties meet again at 9 a.m. on Saturday July 14, but that strike action will continue at other municipal worksites in the meantime. However, the union remains prepared to bargain throughout the week should the Village be able to find time to resume negotiations sooner.
"With several days to consider our proposal, we expect that Saturday the Village is going to come back to the bargaining table prepared to resolve this labour dispute," says Worthylake. "However, if we are not able to reach a tentative agreement at this meeting we will have no choice but to resume picketing of all municipal worksites including Arts Festival venues."