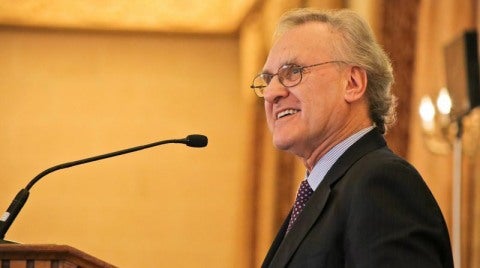 "If we want a civilized society, then early childhood education and child care is the bedrock of civility and hope," said former United Nations ambassador Stephen Lewis to a sold out crowd attending the Child Care 2020 conference in Winnipeg. "Universal child care is the pre-condition for gender equality and a public good, much like public health care and education," he said.
Child Care 2020, is Canada's largest child care conference in a decade.
See the photo album on our Facebook page.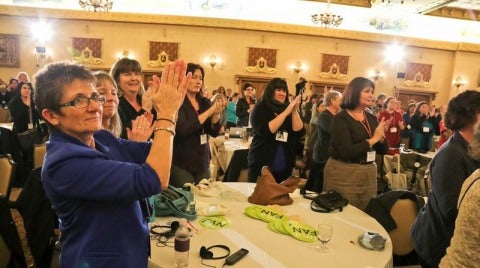 The conference kicked off in Winnipeg on November 13 bringing together a diverse group of nearly 600 early childhood and child care educators, academic and policy researchers, parents and community, union and political leaders all with a shared goal – a universal early learning and child care system.
What we have now, reported a provincial and territorial cross-country panel, is a patchwork of services.
There is no national early learning and care program or cohesive policy, and we have a federal government ambivalent to building a true universal system.
Demand for child care is increasing; fees are high and only 23 per cent of families have access to regulated child care.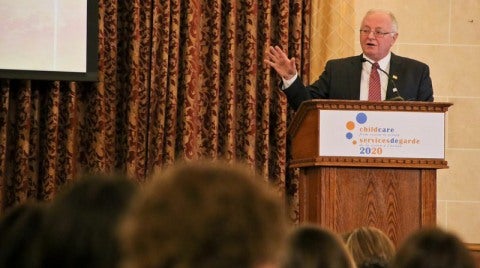 While praising conference participants for engaging in nation building, Lewis was highly critical of the federal Conservative government's recent income splitting and child benefit announcements,. These schemes he said are really about tax policy not child care and early learning. "So far, the only child care policy that we've had put before us is by the NDP for a $15 a day fee," said Lewis.
Ontario Premier Kathleen Wynne was in Winnipeg on other business and came by the conference to address participants. She said all of Canada's federal political parties should be talking about child care and early learning and how we can work as a country to give kids a better start. Manitoba Premier Greg Selinger said his government is on board for an overall vision to support families and children and for universally accessible child care.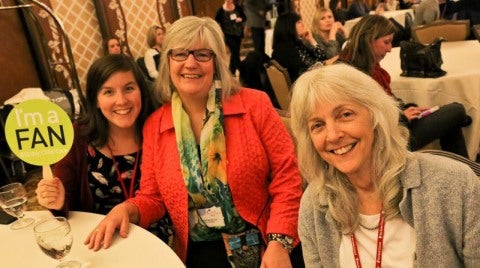 CUPE National President Paul Moist thanked participants for their "activism keeping the dream alive of a universally accessible, public not-for-profit child care system." CUPE is a proud sponsor of Childcare2020.
The conference policy and strategy sessions continue for the next few days.