This year, nearly 3,500 workers in 60 workplaces joined CUPE. The newest members of our union work in municipalities, social services, home care, health care, emergency services, communications, post-secondary education, long-term care, and in transportation.
We are also involved in dozens of active campaigns, as workers continue to choose CUPE as the best union to protect public services and improve wages and working conditions.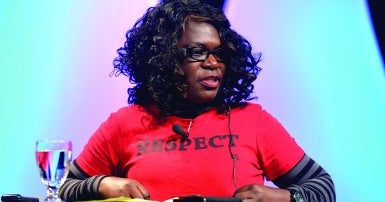 Overall, CUPE's part-time membership grew this year, and our full-time membership dropped. This reflects a cross-country move by employers to less stable, precarious work.
Privatization is another challenge facing our members. In British Columbia, CUPE Hospital Employees' Union members are experiencing this first-hand. This year, HEU organized to protect more than 900 health care workers. The cleaning staff at the Vancouver Coastal and Providence health authorities were caught up in a change from one private contractor to another.
The new contractor, Compass Group, tried to argue that the workers – the vast majority of who are HEU members – should instead be covered by a collective agreement with a union representing fewer than 30 workers in nearby offices. But the Labour Relations Board ruled that this agreement could not stand in the way of an HEU organizing drive, and the newly-rehired Compass workers voted to rejoin HEU.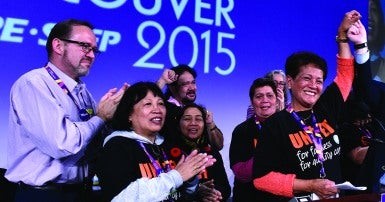 HEU is calling for stronger successor legislation, to prevent union-busting through contract-flipping. CUPE's BC health services division has worked hard for more than a decade, since the mass firings and privatization of health care workers of the BC Liberals, first organizing these workers and then building a common bargaining front across all private contractors.
This year, nearly 3,500 workers in 60 workplaces joined CUPE. 
Restructuring and forced mergers are also ongoing challenges for CUPE members across the country. In Nova Scotia, CUPE members made a legal breakthrough that allowed health care unions in the province to keep their members, defeating Liberal government attempts to force thousands of hospital workers into different unions.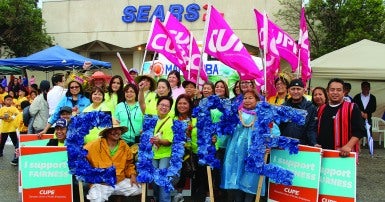 CUPE led the way with a legal challenge of the restructuring legislation. The arbitrator in the dispute agreed that the government's plan violated the Canadian Charter of Rights. This was key to securing a health association model that will see four unions bargain together in a council of unions. During the struggle, CUPE's five acute care locals decided to merge into CUPE 8920, which now represents 4,700 hospital workers province-wide.