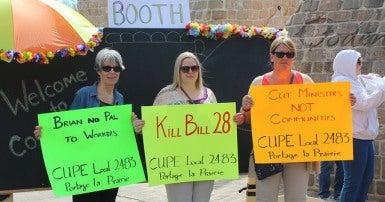 This week, CUPE, through the Manitoba Federation of Labour's Partnership to Defend Public Services filed a court injunction to the Manitoba Court of Queen's Bench against Pallister's Bill 28, the "Public Services Sustainability Act."
Bill 28 is also known widely as the public‑sector wage freeze bill.
"CUPE is taking concrete action against Bill 28," says Lee McLeod, Regional Director of CUPE. "By filing an injunction, we are sending a clear message that we believe the wage freeze legislation is unconstitutional, and must be stopped."
Bill 28 was tabled on March 20, 2017 by the Pallister government, and passed in June.
Bill 28 has not yet been enacted into law, which means this injunction could prevent the Bill from actually taking effect. The court injunction process may take a number of months to complete.
"We will fight Pallister's attacks on families in the courts of law, in the halls of power, and in the streets" says Terry Egan, President of CUPE Manitoba.
"This government will no longer be able to pass laws that hurt Manitoba families without a fight."
For more information on the Partnership to defend Public Services' efforts to fight Bill 28, visit the MFL's page.