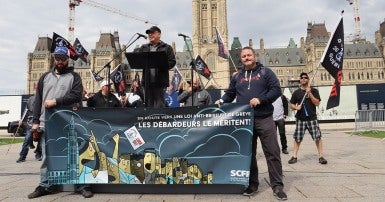 The union representing Port of Quebec longshore workers salutes the federal government's decision to table a bill to prohibit the use of replacement workers under federal jurisdiction everywhere in Canada, including in Quebec. By doing so, the Liberals are finally acting on one of the demands contained in their agreement with the NDP.
It is worth pointing out that in 1976, the Government of Quebec tabled legislative provisions prohibiting the use of replacement workers. This came on the heels of a violent strike at Pratt & Whitney during which many criminal charges were laid against union employees demonstrating on picket lines.
Companies involved in economic activities in the area of maritime transport, e.g., longshoring, come under federal regulations and, as such, are not covered by the Quebec Labour Code.
"History is repeating itself. As in the past, crossing picket lines causes tension and breeds violence. Almost every day, drivers get out of their cars to make threats, hurl insults and even come to blows. Such behaviour is unacceptable in a so-called civilized society. Anti-scab legislation is now more necessary than ever!" exclaimed CUPE representative Nina Laflamme.
The lack of anti-scab legislation is a major factor in causing labour conflicts to drag on, such as the lockout of longshore workers at the Port of Quebec. For months, the employer has been taking unreasonable positions at the bargaining table, which it claims, would exempt it from standards pertaining to what constitutes a normal daily and weekly workload in terms of hours worked. This could force longshore workers to put in up to 80 hours a week. This is in violation of the Canada Labour Code which prohibits workers from working more than 48 hours a week.
"With this new legislation, never again will we see a situation like the one at the Port of Quebec where the employer is literally replacing its workforce one by one with new workers, while running roughshod over union rights," said Laflamme.
For longshore workers in Quebec, this bill comes as a glimmer of hope in this conflict and is reminiscent of the Great Darkness, a period that left its mark in the history of Quebec.