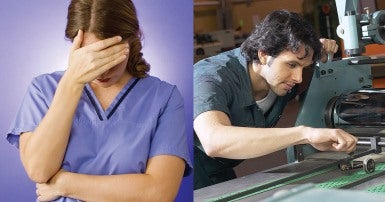 Joe Courtney | CUPE Research
More Canadians are struggling to keep pace with their work demands. The Canadian Mental Health Association reports that one in four Canadians work 50 or more hours per week, compared to one in 10 a decade ago. The fallout from overwork costs Canadian employers an estimated $12 billion per year due to lost productivity, health claims and absenteeism. Disability claims from overwork can reach as high as 12 per cent of payroll costs.
CUPE has produced a report on overwork trends. Though the report focuses on the social services sector, workers from other sectors may find much of the information applies to them as well.
Overwork may be defined as too many duties or responsibilities for one worker, with too few hours in the day to complete all required tasks. It can take many different forms, including working long hours, unreasonable work demands, pressure to work overtime (paid or unpaid), fewer breaks, fewer days off, fewer holidays, fast and pressured work pace, performance monitoring, unrealistic management expectations, additional or inappropriate tasks, and a lack of replacements for staff on leave.
Overwork erodes the quality of social services. Workers often feel frustrated because they're unable to perform their job as well as they would like to. It can also jeopardize clients' health and safety.
The health effects of overwork range from mild symptoms like headaches and sleep disorders to the more serious health effects like burnout, depression, heart attacks or strokes. Workers who are stressed are more than three times more likely to suffer a major depression. Stressed workers are also more likely to miss more time at work. Overwork also affects an employer's ability to attract and retain qualified staff and prevents workers from being active in their union.
Workload is a management res­ponsibility. The best way to ensure that management takes workers' concerns about workload seriously is through the collective agreement.
Overwork collective agreement checklist for social services
This is a partial list. For the full list, check out the report here. 
Does management acknowledge that it is responsible for dealing with workload concerns in a proactive fashion?
Are there regular employee workload reviews and opportunities to ask for assessments?
Is there an established caseload or workload range?
Has a joint union-management workload committee been established?
Does the employer have to notify the union of a caseload or workload review, including subsequent follow-up and results?
Is there protected time for case documentation and paperwork?
Are vacations and other leaves properly staffed and scheduled?
Can workload be subject to grievance?
Is the employer required to fill all vacancies as soon as possible?
Are there provisions regarding work-life balance?