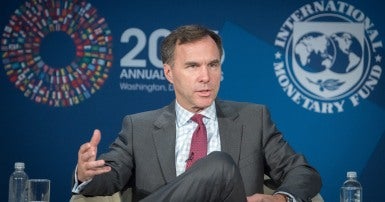 On Thursday, Finance Minister Bill Morneau was urged by the Advisory Council on Economic Growth to accept recommendations that involve the creation of a Canadian Infrastructure Development Bank. The move would entice private companies and pension funds to invest heavily in public infrastructure. The concept, put forward by the business-dominated council, presents some scary consequences for the potential privatization of public infrastructure and services that Canadians access daily.
"The advisory council's recommendation to create a Canadian Infrastructure Development Bank is a recipe for the cannibalization of Canada's public infrastructure," said Mark Hancock, CUPE National President. "The model being proposed will lead to privatization of key public assets, and will only benefit private institutional investors."
Privatization doesn't just increase costs. It also leads to greater inequality, as user fees increase and operators reduce wages and benefits for workers, but increase compensation for CEOs. 
The Trudeau government keeps talking about how much they want to support the middle class and address inequality. Increasing privatization in our communities does nothing to achieve those goals.
"Because private interests demand a return on investment, this type of privatization can only lead to increased costs for Canadians down the road," said Charles Fleury, CUPE National Secretary-Treasurer. "The government can borrow funds at a much lower interest rate than private corporations, and the only return on their investment is the public good."
These recommendations also open the door to higher foreign ownership of Canadian infrastructure, posing its own set of problems. Foreign ownership leaves our governments open to being sued by private interests under trade deals like NAFTA, CETA and the TPP.
Alternatives do exist. University of Toronto expert Matti Siemiatycki has made much more constructive proposals for a national infrastructure bank that would reduce rather than increase the cost of financing for public infrastructure and increase accountability and transparency over these decisions.
"How the Trudeau government responds to these recommendations will be a moment of truth. They can bend to the interests of private finance, or really implement policies to support the inclusive growth that they keep talking about. I hope it's the latter," said Hancock.