A CUPE delegation proudly joined close to a hundred trade union women from around the world at the annual meeting of the United Nations Commission on the Status of Women (UNCSW) in New York City.
Candace Rennick, CUPE Regional Vice-President and Ontario Secretary Treasurer, and Elizabeth Dandy, Director of Human Rights, are part of an international labour delegation calling on governments to make meaningful commitments to gender equality and women's rights.
"The Commission is a key forum for gender equality internationally," Rennick said, "and we're here to make sure the voices of working women are heard."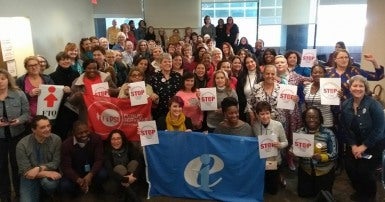 The labour delegation is lobbying governments to uphold fundamental labour rights for women, including the right to organize and bargain collectively, and to recognize the crucial role of unions in advancing gender equality.  They are also calling for strong commitments to public services and public infrastructure, and decent work for women globally.
On Monday, Rennick spoke on a panel about CUPE Ontario's Time to Care campaign, as an example of unions fighting for quality public services that are so crucial to women's equality. "Women count on public services to support them in their communities and as a source of good jobs." Rennick said. "It's women who bear the brunt of doing unpaid care work when quality public services aren't available."
The panel called "Organizing for Rural and Indigenous Women in Canada" also included the President of the Native Women's Association of Canada, and other speakers from Canadian trade unions as well as the YWCA.
Follow the work of the trade union delegation. 
Blog: http://unioncsw.world-psi.org
Facebook: WomenPowerUnions 
Twitter: @unioncsw