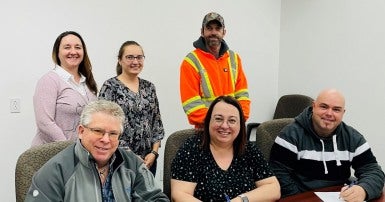 Today, the fifteen or so white- and blue-collar workers in the Town of Ville-Marie in the Témiscamingue region signed their new collective agreement.
This new 5-year contract runs from January 1, 2022 to December 31, 2026 and calls for a wage increase totalling 17%.
Some of the other gains made include the establishment of premiums relating to certain responsibilities such as drinking water. Moreover, to encourage healthy living habits, the Town will cover a portion of the employees' registration fees for cultural and athletic activities.
According to Martin Lefebvre, the mayor of Ville-Marie, this new collective agreement very effectively addresses the issues and challenges confronting both employees and the municipality.  'We are keenly interested in keeping our work teams together by providing conditions that foster their commitment to day-to-day issues.
CUPE union representative Geneviève Carrier believes that by signing this agreement, the employer acknowledges the commitment and versatility of employees who continue to provide quality service to citizens.