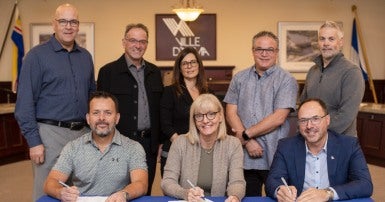 The Town of Alma, in the administrative region of Saguenay–Lac-Saint-Jean, and the union representing the 190 blue- and white-collar employees signed a new collective agreement the day before yesterday. The previous one expired on October 15, 2021. Last October 12, 88% of the members ratified the tentative agreement.
The five-year contract, which runs to October 14, 2026, calls for annual wage hikes of 2.09% from October 15, 2021 to October 14, 2022, along with a minimum of 2.25% to a maximum of 3.5% for the subsequent years.
Other gains include the creation of seven permanent positions, the recognition of general seniority with all of the benefits called for in the collective agreement, including vacations, and the elimination of all pay disparity clauses.
In addition, the members obtained an extension of the summer schedule, a gradual increase in the duty premium for 2024 and six days of union leave for the union executive.