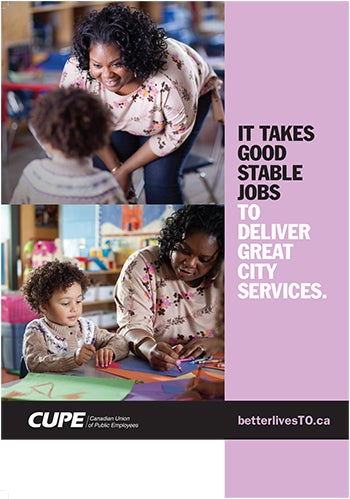 Kevin Wilson | CUPE Communications
By standing strong and working together, the City of Toronto's inside and outside workers were able to push back some of the worst concessions ever proposed in the city, and secure collective agreements without a disruption in service. 

Since December 31, CUPE 79 (City of Toronto Inside) and CUPE 416 (City of Toronto Outside) had been without a collective agreement. With a new conservative Mayor replacing the old conservative Mayor, it seemed the city was spoiling for a fight that could lead to a work stoppage while whipping up public anger against city workers. 

CUPE 79 and 416 had other ideas. With support from CUPE National, they worked closely and coordinated strategies, ensuring that the city couldn't divide the locals. Library workers, represented by CUPE 4948 and community centre workers represented by CUPE 2998, joined them in their efforts and are also in the process of bargaining new collective agreements.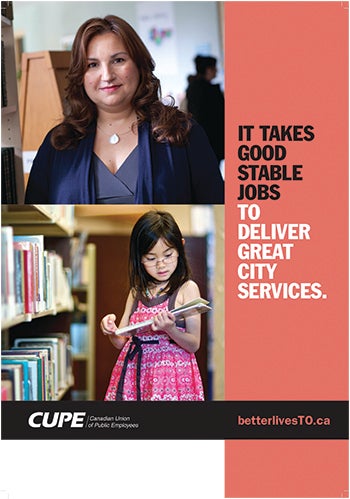 Early on, things looked grim. Negotiators for the city tabled page after page of concessionary demands. Workers rose to the occasion. As bargaining intensified and the city applied pressure to accept concessions, CUPE 79 members began 'Blue Mondays' by wearing blue clothing. CUPE 416 followed suit with Black Fridays. 

On February 20, hours after the deadline passed, CUPE 416 and the City of Toronto reached a tentative agreement. Not long after, following a weekend of fruitless bargaining, CUPE 79 commenced work-to-rule action, the first time such action has ever been taken by a municipal local in the city. 

Under work-to-rule, CUPE 79 members performed only the tasks required of them, refusing to take on additional work, and took their full breaks and lunches. The tactic clearly caught the city by surprise, and was supported by an extensive advertising and communications effort. 

The threat of escalating job action hung over management's head, and their negotiators withdrew virtually all concessionary demands. 

On March 3, CUPE 79 announced they had reached a tentative agreement.