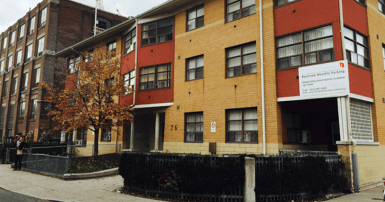 Effective Sunday, August 22, at 12:01 a.m., more than 700 housing workers at Toronto Community Housing Corporation (TCHC), who are represented by CUPE 79, will be in a legal strike position to enhance safety, improve quality, and ensure affordability for 110,000 Torontonians who rely on social housing.
The union filed a no board report to Ontario's Ministry of Labour in late-July, commencing a 17-day countdown to legal job action.
"Our employer is aggressively targeting job security, seniority rights, parental and maternity leave benefits, and refuses to consider vital health and safety proposals to keep workers safe," says Dave Mitchell, President of CUPE 79. "Workers, who've taken on considerable risks during the pandemic so that social housing tenants have the resources and supports they need during these truly devastating times, feel utterly betrayed by TCHC." 
Waitlists for community housing currently exceed 79,000 people and the city's housing crisis has reached its peak during the COVID-19 pandemic. Without TCHC's workers, tenants wouldn't have access to lifesaving supports including wellness checks and referrals to critical health and social services, reports the union.
"TCHC is in complete disarray, with frequent and costly changes to upper management and constant changes to its organizational structure. Workers have had to pick up the slack," continued Mitchell. "The employer seems to have no regard for the wellbeing of workers or the quality of services that Torontonians rely on. Workers are rightfully concerned and are willing to do whatever it takes to safeguard and improve social housing in our city."
CUPE 79 recently obtained an overwhelming strike mandate from its cohort of 700 housing workers. The local began negotiations with TCHC in September 2020. The local represents full and part-time workers at TCHC, the largest social housing provider in Canada and the second largest in North America.