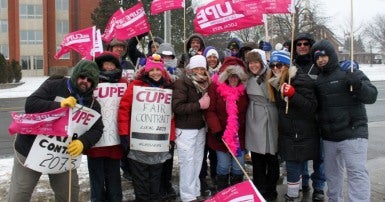 The Canadian Union of Public Employees (CUPE), Local 2073, representing 227 striking workers at the Canadian Hearing Society (CHS), has reached a tentative settlement with the CHS. The tentative deal, if ratified by both parties, ends a nine-week-old strike that started March 6th. Mediated talks were facilitated by third-party mediator John Stout over four and a half days in Toronto.
No details of the tentative settlement will be released until the membership has had the opportunity to review and vote on it. Membership meetings and a ratification vote are scheduled for Friday, May 12th.
The earliest possible date workers could be back on the job is Monday, May 15th.
"I'm pleased to say we now have a resolution," said Stacey Connor, president of Local 2073. "We have a deal that we can recommend to our members."
"I want to thank our members for holding rock-solid picket lines for so long. Because these workers were so tough, we were finally able to move this employer into compromise mode, with Mr. Stout's help. It should not have taken nine weeks, but here we are."
"I especially want to thank the deaf and hard of hearing community for its unflagging support through the strike. They walked alongside us on the picket lines. They brought us food. They wrote letters to politicians and to CHS to say that our issues are their issues. They were so supportive of us, and we want to say that we are so looking forward to being able to return to work providing them with vital services."
CUPE Local 2073 represents workers in 24 CHS offices across Ontario. They serve the deaf and hard of hearing community by working as counsellors, literacy instructors, audiologists, speech language pathologists, interpreters/interpreter trainers, clerical support, program coordinators, program assistants, and information technology specialists. 90 per cent of workers are women, and 40 per cent of them are deaf.