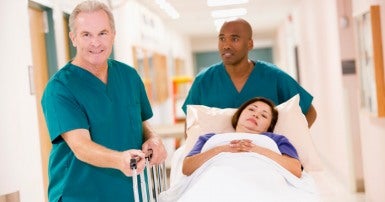 The CUPE Prince Edward Island Health Council is pleased to announce that a tentative agreement has been reached in the contract talks between healthcare workers and the province.
The Council is composed of four CUPE locals (805, 1051, 1778 and 1779), which together represent over 1000 workers in healthcare classifications such as orderlies, utility workers, cooks, ward clerks, maintenance trades, sterile processing technicians, power engineers, painters, cashiers and more.
"In the bargaining team's opinion, it's a good deal for our members, from hospital workers to manor workers," said Leonard Gallant, President of the PEI Health Council. "Each local will be holding ratification meetings in the coming weeks and the bargaining committee will be recommending to accept," he added.
The healthcare locals' contract expired on March 31, 2020, and they have been in negotiations since November 2020.
"Both the union and the employer said from the onset 'we are here to get a deal at the table' and that's what we got. Both sides worked in respect of each other's needs, and the end result looks like a win-win. That must be commended," said Lori MacKay, the CUPE National Servicing Representative assisting the bargaining team.