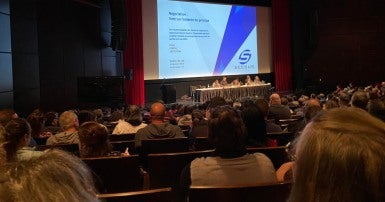 At a general meeting yesterday, the union representing Université de Sherbrooke (SEESUS)  support employees voted 71% in favour of accepting the tentative agreement their union reached with the university. The previous collective agreement covering 1250 employees had expired on March 31, 2022.
The three-year contract calls for an overall wage hike of 9.66% and includes several improvements such as access to group insurance by temporary employees and greater flexibility and transparency in the job posting process.
Other gains include several abolitions of lower job classes, which will upgrade some employees to a higher level, an increase in the number of vacation days that can be split and the possibility of converting family leave and personal leave to hours. 
"The main issues we worked on involved maintaining what we already had and obtaining both immediate wage hikes and more flexibility with respect to some provisions of the current agreement. The parties listened to each other's needs and together, we came up with solutions. I would like to thank the 684 people who cast their vote. That was a fantastic turnout rate," said Annie Trottier, President of CUPE Local 7498.
"Negotiations took place in a respectful and cordial environment, which produced an agreement to the satisfaction of both parties during talks that lasted only six months followed by a three-day bargaining blitz," said CUPE union representative Nathalie Giguère.