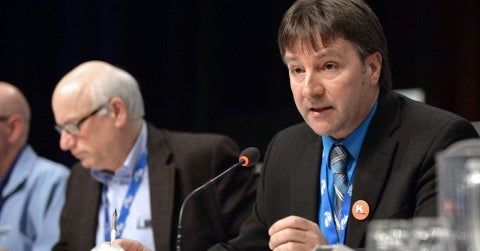 Charles Fleury | National Secretary-Treasurer
Attacks on public services and the labour movement by employers and right-wing governments at the federal, provincial and municipal levels continue with great fervor. In this increasingly challenging context, CUPE members across the country can count on their national union for financial support as they continue to defend public services.
Membership dues are being put to good use in fighting against the provincial governments of Alberta, New Brunswick, Quebec, Saskatchewan and Newfoundland and Labrador who are seeking to undermine the pension plans we have worked so hard for. This year, the entire annual budget of the Fightback Fund in the National Defence Fund has been used to fund these and other campaigns.
CUPE and locals are coordinating their efforts in cost-share campaigns on multiple fronts. As of September 30, 2014, the budget allocated to these campaigns totalled $5.8 million, $2.9 million of this coming from the national budget and the other half raised at the local level.
Our organization's budget is also used to assist locals in fighting austerity programs such as the restructuring of health services currently underway in both Nova Scotia and Quebec.
The national budget will provide for continued support of our members in 2015 as they continue to negotiate better pay and benefits at the bargaining table. We will also continue our action in the political arena. It is especially important for the labour movement to throw out the Harper conser-vatives during the next federal election and elect a NDP government that is sensitive to the priorities of workers.
As our revenue growth has been weaker due to the rise of precarious jobs and retirements, both of which drive down average wages, we continue to manage our union finances responsibly. In doing so, we can ensure that we always have the financial resources at hand to support our members when they need it.
Charles on Twitter: @CUPENatSec