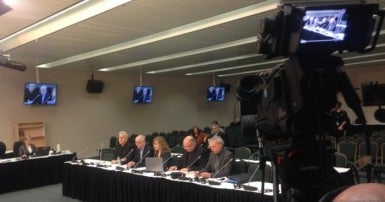 OTTAWA, ONT – On this second day of CRTC hearings on the future of local and community television, CUPE's Provincial Council for the Communications Sector (CPSC) lamented the sad state of local news in Quebec.
"According to the 2015 report published in December by Influence Communication, Quebec now has nearly 90% less local news than in 2001, all media combined. The report reveals that the regions are trapped in a vicious circle, and only the CRTC can take action to turn the tide," said Alain Caron, president of the CPSC, which includes 7,700 workers in the communications sector in Quebec.
The union representative noted that such a steep decline is a cause for concern because there is a direct correlation with participation in elections in regions that lose their local news.
"In order to curb the loss of local news produced by the media and its impact on our democracy, the CPSC suggests creating a new fund to increase the quantity and quality of original local programming. And even more importantly, this financial assistance should be paid exclusively to the regional stations, to give them back some real control over their programming," added Caron.
In other words, money and the power to decide what is aired in the regions should be restored to regional stations. We need to strictly regulate the amount of network programming on regional stations.
"The CRTC has a fundamental role to play since its regulation is the only available weapon that can give a voice to Quebecers and Canadians at a distance from the major centres," concluded the workers' representative.
With more than 110,000 members in Quebec, CUPE represents some 7,700 members in the province's communications sector. CUPE is also present in the following sectors: health and social services, education, universities, energy, municipalities, Quebec government corporations and public agencies, urban and air transport, and the mixed sector.
Information
Lisa Djevahirdjian
CUPE Communications Service
 514-831-3815