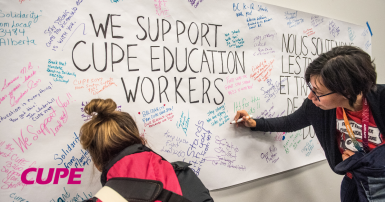 School support staff in five school divisions in Manitoba have now voted in favour of strike action, calling for contract negotiations to be resolved ahead of the new school year.
"School support staff have been working incredibly hard to keep our schools and children safe during the pandemic, yet the Pallister government continues to try to prevent school divisions from settling staff contracts fairly," says Lee McLeod, CUPE Regional Director. "School support staff are feeling ignored and disrespected by the government, and are voting to strike for fairness."
School support staff who now have strike mandates include the Brandon School Division; custodians and trades at the Winnipeg School Division; custodians, library techs, bus drivers, IT, and clerical at the Seven Oaks School Division; and support staff at Turtle Mountain and Park West School Divisions in the Westman area.
School support staff have been without a new contract since 2018, as a result of Pallister's unconstitutional interference in collective bargaining. Support staff are asking for wage increases in line with recently settled teachers' contracts.
No dates for a strike have yet been set.
There is another way.
"Some school divisions have offered fair wages and settled negotiations without the cloud of Pallister's wage mandate holding them down," said McLeod. These include the St. James-Assiniboia School Division, Interlake School Division, Turtle River School Division, and Evergreen School Division. "School divisions should be unafraid to exercise their locally elected voices by supporting the staff who have helped carry our schools through the year."