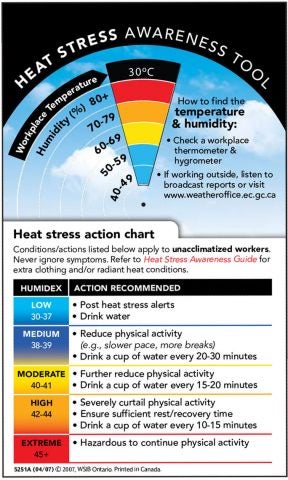 With memories of the long winter we just suffered still lingering, many of us are embracing the summer heat. But it's important to be aware of the hazard heat can be this time of year if you're working outdoors or indoors without proper ventilation.
To help improve awareness of the hazard and help keep workers safe, CUPE's Health and Safety Branch included the Occupational Health Clinics for Ontario Workers' Heat Stress Awareness Tool in the latest national general mailing. It's a simple wheel that helps determine the severity of heat affecting workers. Simply dial in the current temperature and level of humidity.The colour code on the disc indicates the level of risk, and the legend indicates the proper action workers should take to protect themselves.
More information on preventing injury and illness from heat stress, and a downloadable file to make your own heat stress wheel, can be found at ohcow.on.ca/heatstressawarenesstoolkit.
Plus, check out the CUPE fact sheet on preventing heat stress.