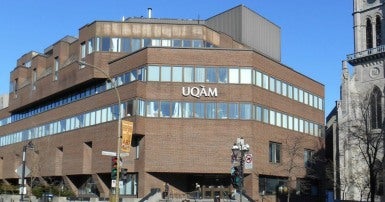 With only two weeks to go before university students return to UQAM, the parties at the bargaining table still have not come to an agreement, and a strike by 1800 support employees could be called when the new session starts.
The Syndicat des employées et employés de l'UQAM (SEUQAM) have begun a new phase in its pressure tactics to encourage dialogue with the employer to improve wages, the crux of the dispute. A visibility campaign has been started on billboards, in the metro and in newspapers, with the main message reading: Pas d'employé.e.s, pas de rentrée!
"The union's offer is more than reasonable. We understand the effort needed to balance the budget. In fact, SEUQAM members have made a huge contribution in helping the university achieve its objectives, particularly through the work they have done with a reduced staff over the past several years, at a cost to their health and their personal lives," claimed union president Louisa Cordeiro.
Moreover, UQAM researchers conducted an extensive study showing that more than half of university support employees, UQAM included, are suffering from psychological distress. Click on the following link to read this study: Étude sur la détresse psychologique.
"At a time of labour shortages, we do wish to remind management that our members provide quality services to the university community. We want to contribute to the growth of our institution, but in order to retain members in the various work groups, whether professionals, technicians, office employees and trades and services employees, they must be treated appropriately, starting with decent wages," said the union president.
UQAM support employees have been without a collective agreement since May 31, 2017. A strike vote was taken last July 3.