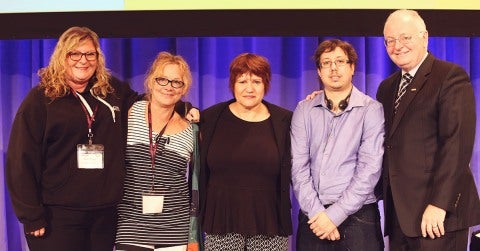 Members headed home to their communities from CUPE's sector council conference have new know-how and renewed resolve to stand up for good jobs and public services.
The conference, a first for CUPE, drew nearly 1,200 members and staff. They connected across regions in 11 sector meetings, and connected across sectors in lively plenary sessions.
Speaking to participants, AFSCME President Lee Saunders drew on the words of Dr. Martin Luther King Jr., to describe the labour movement being "confronted by the fierce urgency of now."
CUPE National President Paul Moist said our members are in the eye of those urgent times, as we face tough rounds of bargaining, unprecedented attacks on our bargaining rights, and threats to CUPE's very existence.
Against this backdrop of these major challenges, members rolled up their sleeves to listen, learn and strategize. The positive energy was infectious.
"It's your participation that made this event such a success," said Moist. Member swapped everything from success stories to collective agreement language, and formed many new friendships.
"Common to every single room was that everybody was participating. Not just at the floor microphones but in roundtable discussions. Everyone sat with people who weren't from their local or region – laughing and sharing stories with people they hadn't met," said Moist.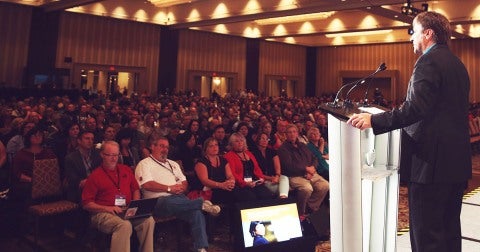 Sharing ideas has brought big results, said CUPE National Secretary-Treasurer Charles Fleury. "In three short days we've done so much to build our internal unity and solidarity," he said. "We can go home to our regions knowing we are part of a very strong, very determined and very united movement. Let's remember that when they take one of us on, us all on."
While members in each sector identified and strategized about specific issues they are facing, they also flagged many common challenges and concerns.
Moist said workers in every sector reported they are under pressure on many fronts. Legislative threats, attacks on pensions, cutbacks and underfunding were prominent issues, as were the rise of precarious work, privatization, and health and safety at work.
"Hearing what others have achieved expands our knowledge. Knowing you're not alone strengthens our collective resolve. It strengthens our collective power," he said.
The importance of mobilizing grassroots members was another common theme. Moist committed that CUPE's Fairness project will continue to give locals the tools they need to have those conversations.
Members were also clear about the importance of electing progressive governments at all levels. Fleury said CUPE has its eyes firmly focused on the coming federal election in 2015 – and there is only one party that supports good jobs and public services.
"In Strategic Directions, you gave us a mandate to not just defeat the Harper government, but to work to elect Canada's first federal New Democratic government, said Fleury. We can't forget the Liberals raided the Employment Insurance fund, cut transfers to the provinces, and were mired in corruption."
Moist thanked participants for their dedication. "We know there's never been a tougher time to be an activist. The members want and need your leadership to resist concessions, achieve pensions, win real wage increases and ease workload."
Locals will receive a report from their sector meeting in the coming weeks, and will be asked for their feedback in an online survey.
View photos on our Facebook page.