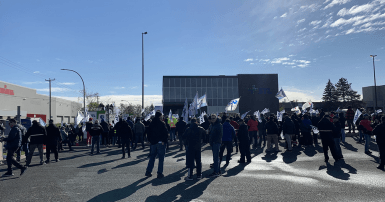 Drivers with the Société de transport de Laval (STL) cancelled the strike set for last November 15 and decided instead to go on strike for two days, Friday, November 26 and Saturday, November 27. The members will therefore have an impact on in-store traffic on Black Friday and the day after.
"Employees are forced to go on strike, because the STL's mismanagement is jeopardizing public transit for the citizens of Laval. We don't want a strike, but we'll go that route to ensure the city's sustainable development," said Patrick Lafleur, president of CUPE 5959.
At a time when climate change should be central to all decisions, the employees are denouncing the fact that management does not want to provide Laval's population with a serious and effective public transit system.
On Friday, November 26, transit service will be maintained only during rush hour and late in the evening. It will be down most of the day.  On Saturday, November 27, no bus service will be available in Laval.
The dispute centres on maintaining bus routes with insufficient demand, scheduling and wages.