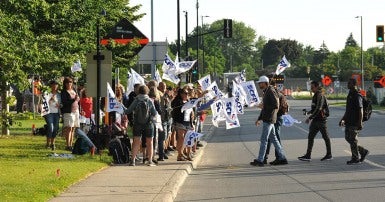 Striking croupiers at the Casino de Montréal, represented by CUPE 3939 have announced that negotiations reached an impasse on Tuesday, twelve weeks into the conflict. When a settlement was imminent, the employer did an about-face on the interpretation of provisions already agreed to. For the union, it is inconceivable that negotiations have dragged on to the extent they have, which has cost Loto-Québec close to $13 million. Every week costs Loto-Québec the equivalent of one week of added costs of a new acceptable collective agreement.
"What worries us as well is the article that appeared in the July 28 issue of the Journal de Montréal, which said that the croupiers' strike benefits the Wôlinak casino. The situation probably benefits the Kahnawake casinos as well. The Legault government, the minister responsible, Éric Girard and Loto-Québec should also ask themselves where this is headed. This dispute has dragged on for no reason and cost the Quebec government income that it will not get back. As time goes on, one is left to wonder to what extent customers will come back once the conflict has been resolved," said CUPE union representative Jean-Pierre Proulx.
CUPE 3939 has instructed its legal counsel to evaluate the possibility of filing a bad-faith bargaining complaint. It also intends to convene the media in the coming days to shed light on the circumstances leading up to the impasse in negotiations on August 2.
The contract covering the 545 croupiers expired on March 31, 2020. The strike began on May 21, 2022.