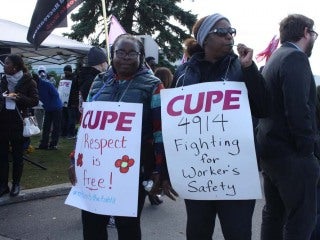 A nine-week long strike between the Children's Aid Society of the Region of Peel (Peel CAS) and the union representing 435 front-line, administrative and support staff will continue after Peel CAS rejected a proposal to send all outstanding issues to binding arbitration.
"We have been informed by the provincially-appointed conciliation officer that Peel CAS would not consider our offer to send the last outstanding items to arbitration," said Sonia Yung, President of Local 4914 of the Canadian Union of Public Employees (CUPE 4914), which represents striking Peel CAS workers.
"Peel CAS' refusal to consider what we believe is the best solution to this impasse calls into question both their motivation for prolonging this strike, as well as their commitment to the families we serve," she added.
"It's laughable," Yung concluded, "(Peel CAS Chief Executive Officer) Rav Bains has claimed that he does not want binding arbitration because he wants an agreement that reflects what employees want, yet he has stalled negotiations and has been insisting on his own position for the past nine weeks."
CUPE 4914 commenced strike action on September 18, after Peel CAS refused to bargain any further on two outstanding issues. The two sides have since met twice, with talks collapsing both times after Peel CAS demanded the union accept their last offer and refused to negotiate any further.
Peel CAS' decision to not consider the solution proposed by the union prompted a strong response from Fred Hahn, President of CUPE Ontario.
"If Peel CAS feels so strongly that their position on the outstanding issues is the right one, then they shouldn't be afraid to put that position before a neutral third party for arbitration," said Hahn.
"Instead, Rav Bains prefers to continue depriving families in Peel Region of the vital supports they need. That's unconscionable and I will be raising this matter with both the Minister of Labour and the Minister of Children and Youth Services in the coming days," he added.
Yung called on families impacted by the strike to speak publicly about the challenges they are facing, to put pressure on Peel CAS to return to the bargaining table.
"It is clear to us that Rav Bains is not prepared to listen when we tell him of the risks associated with continuing this unnecessary strike. Others need to join their voices to ours and share the impact this strike is having on them with the broader public," she said.