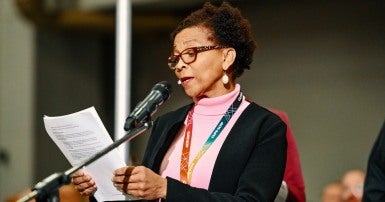 Discussion on Wednesday focussed on increasing CUPE's political power, with some delegates calling for stronger and more frequent references to working with the NDP to help them get elected and re-elected.
One delegate suggested locals affiliate to the NDP – noting that it does not cost anything for them to do so. Another pushed for CUPE to help and encourage members to run for office and noted that members need to donate their own money to the NDP. One member backed up this sentiment saying, "we need to tell our members not to just support the NDP, we need to become the NDP."
Others spoke to the need to build power internally by communicating better with our members and helping those who cannot attend meetings to still participate.
A speaker urged CUPE to continue deepening and strengthening our ties with community allies and social movements, reminding us all that we need to have each others' backs if we want to take on right-wing governments and win. 
Another delegate warned how digitalization can make it easier to outsource public sector work and bypass our collective agreements, and urged CUPE to be alert to this new threat.