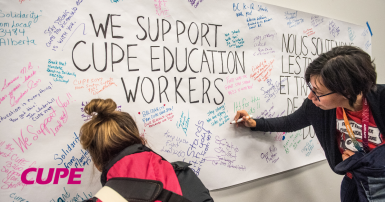 Minister of Education, Wayne Ewasko and Minister of Consumer Protection and Government Services, James Teitsma have announced that they will be building new schools under the Public Private Partnership (P3) model, a move that will hurt Manitoba schools, says CUPE Manitoba.
"This government tried bringing in P3 schools before but cancelled them because their own reports found building schools the traditional way would cost less and get done faster," said Gina McKay, president of CUPE Manitoba. "Bringing P3s back from the dead shows that the Stefanson government is ideologically committed to a bad idea."
Evidence across Canada shows that P3s are less accountable and will cost more.

In their release, Ministers Ewasko and Teitsma cited Alberta and Saskatchewan as being successful cases, but the Alberta government recently scrapped their plans to build more P3 schools citing cost and inflexibility for teachers. In one case, due to the private contract, staff were not permitted to operate the thermostat.
In Regina, teachers weren't allowed to decorate classrooms or open windows in P3 schools. In 2018 it was found that Saskatchewan was spending four times more per school on maintenance for 18 new P3 schools as it had for the remaining 621 schools in the province.
"Stefanson is setting these schools up for failure," said McKay. "Manitobans won't forget this governments attacks on schools and education workers, and we won't accept P3 schools in our province."
The Canadian Union of Public Employees represents more than 6,000 school support staff in Manitoba.