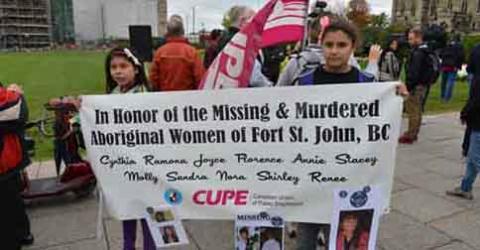 CUPE members, staff and leaders joined over 300 people on Parliament Hill for an Oct. 4 rally in honour of murdered and missing Aboriginal women and girls, and to call for a national inquiry into this human rights crisis.
The annual event is organized by the Native Women's Association in response to the almost 600 Aboriginal women and girls who have been murdered or gone missing in Canada. The rally, one of over 200 events and vigils held across Canada, was focused on hearing from families who have lost sisters, mothers, grandmothers, daughters, aunts and nieces.
CUPE 3350 sponsored Connie Greyeyes to travel from Fort St. John to participate. Greyeyes' aunt was killed in a hit-and-run, and her cousin was murdered. She has been an advocate for murdered and missing Aboriginal women for years, and has organized vigils in Fort St. John. Greyeyes shared the story of her aunt and cousin, and of many other Aboriginal women and girls from her home community who have gone missing or been murdered.
After hearing from the families, political and labour leaders spoke. They included NDP and official opposition leader Thomas Mulcair, Assembly of First Nations National Chief Shawn A-in-chut Atleo, CLC Vice-president Barb Byers, and CUPE National President Paul Moist.
"I deeply thank the families here today for sharing their stories," said Moist in his remarks. "What has happened to these families and the women and girls they've lost is a national tragedy. Every women and girl in this country deserves a life free from violence."
Moist joined other speakers in calling for a national inquiry into the epidemic of murdered and missing Aboriginal women.