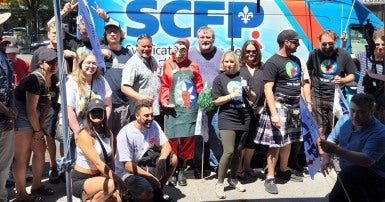 CUPE members, at the SQDC, have been on strike for two months and are determined to keep pressure on the employer to get a decent wage.
"It's not complicated, more than half of our salary goes to pay the rent. We barely manage to feed ourselves. When you work at SQDC, you must have a second job to make ends meet," said president, David Clément.
Members expect an offer from the SQDC that will allow them to live with dignity, just like workers in other Crown corporations. This is what members decided at a general membership meeting last Sunday. 
"The employer still refuses to listen to our concerns and to negotiate our salary in good faith. We are concerned about the poverty that our employer, a successful Crown corporation, is keeping us in," said Clément.
This strike is a response to the SQDC's lack of a satisfactory wage offer, but it is also a response to unjustified sanctions against members who showed up for work in dresses or shorts to legally express their frustrations with the slow pace at the negotiating table.
SQDC workers expect a real wage offer from the employer, an offer that reflects what an employee of a highly profitable Crown corporation normally earns, an offer that is close to the $56,000 a year that Premier François Legault considers a "well-paid job."