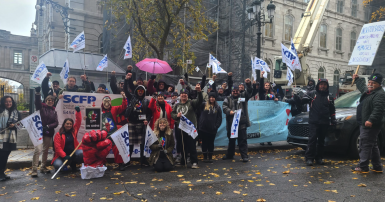 Members with Société québécoise du cannabis (SQDC), represented by the CUPE 5454, took advantage of the swearing-in ceremony of CAQ ministers to demonstrate around Quebec's National Assembly in Quebec City. Members have been on strike since last May.
The 300 employees are demanding working conditions and benefits like other comparable Crown Corporations, particularly the Société des alcools du Québec.
Currently, SQDC employees earn just $17 an hour when they are hired and more than 60 per cent of staff are casual. They have few benefits, unstable schedules, and unpredictable income. In fact, SQDC is a growing, profitable business that earned a net profit of more than $75 million during the last fiscal year.
"We hope that Sonia Lebel, who is starting her second term as the Minister responsible for the Conseil du trésor, will get directly involved at the bargaining table to denounce this impasse caused by the paltry offers that the SQDC continues to make to us," says David Clément, President of the Syndicat des employé(e)s de la Société québécoise du cannabis, CUPE 5454.
Given that the employer has, over the past 18 months, refused to negotiate a first collective agreement for other workers that have joined CUPE, the union has no other choice but to ask the Ministry of Labour to appoint an arbitrator.